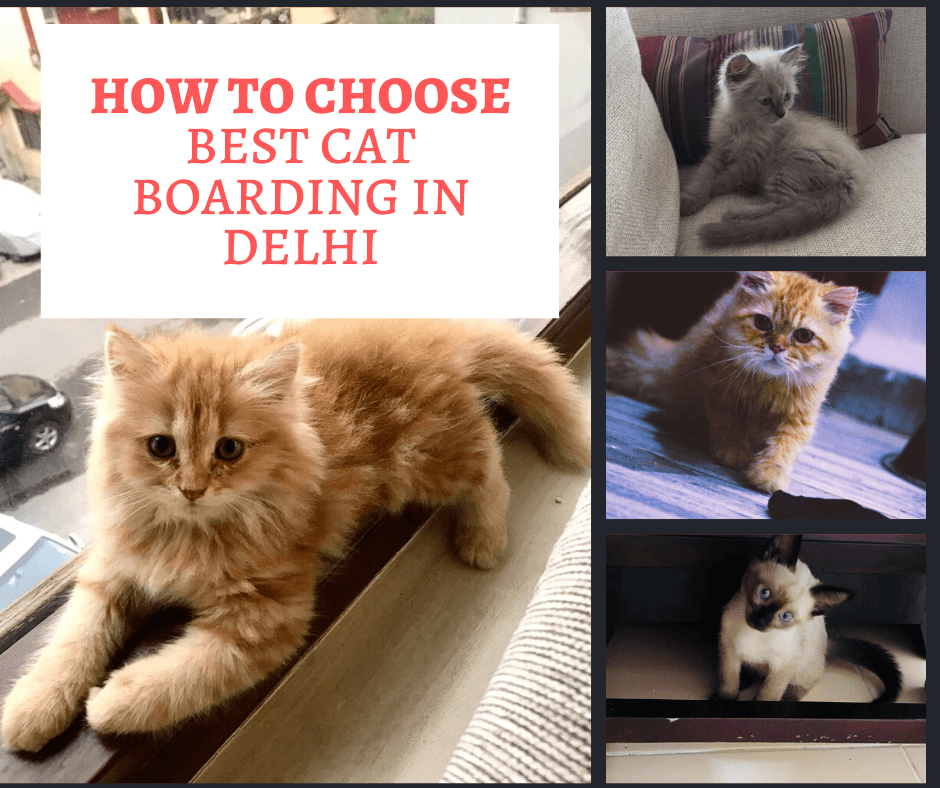 How to Choose Best Cat Boarding in Delhi
Being a pet owner, you must be aware of the roles and responsibilities that you have towards your little pet. When talking about cats, they flourish and blossom in proper attention and care, and they are a crucial part of the family. They need your love, time, and focus along with the food and other necessities just like your other family members.
Life is full of responsibilities and works, so sometimes it becomes challenging to provide adequate time for the pets. Even sometimes you have to hire specialized personnel for their care due to work outings, vacations, and hectic schedules, which also adds some extra bucks in your expenses.
Planning for a particular overseas vacation becomes a nightmare for the cat parents in the worry of the cat's stay during their vacation. Taking the cat with them for the outing sounds fun, but it's not an option as many airlines prohibit the entry of pets. 
Plenty of cat boarding, cat hostels, catteries, and cat crèches are opened in recent years to vanish all these problems which you might face. The main task of such teams is to take care of the cats when you leave them here. The best part is if you want to leave your cat for some hours only then you can get assistance from cat crèches. You can use these hostels or boarding services in case of going on some vacation or business trip.
Many best cat hostels or catteries are now open in Delhi. They give not only proper attention to cat's regular but also provide exceptional care to the hygienic surroundings, adequate notice, and adequate playtime of kittens to make them comfortable in an unfamiliar space.
What to Keep in Mind While Choosing a Hostel for Your Cat
Your cat into a new environment in the hands of some strangers, while you will be away, is not an easy task. As a cat parent, worrying about the authenticity, conditions, etc. of the cat hostel is normal.
If you are separating from your feline for the first time and finding it a little bit difficult to choose the best cat boarding in Delhi, then you are in the right place. You must check the mentioned essential things before leaving your cat to a particular hostel as they affect your pet a lot: 
Initially, you must check out properly for the infrastructure and living surroundings of the hostel. For this, you can explore the whole place to look up the living conditions of other cats such as their area, beds, toys and feeding trays, etc. 

The security and safety of your cat is the most important thing. The ideal hostel must have an adequate number of caretakers as the cats usually try to escape from the new places. The cells of cats should be appropriately concealed so that your pet can't slip away from any opening.

It would help if you tried to find out the mood of fellow animals of the hostel. As a cat owner, you can easily decipher whether these animals are happy or not in a specific hostel. Apart from that, some hostels even keep dogs along with cats. There should be a separate area for such animals so that your feline can lead a carefree life in the hostel.

It would help if you inquired about the daily routine of animals from the hostel's staff. You should know that how many times the cats are feed, which feline food is provided to them, how often the place is cleaned and what is the playing hours of the hostel etc, before admitting your cat.

Just like us, cats also don't like to live in an unfamiliar place without their family. Although you can make them comfortable in a new area by giving them their things which they use at home such as the bed, blanket, or toys, so it would help if you inquired whether outside accessories are allowed in the hostel or not as not every hostel allow these things.

In an ideal hostel, the cats should be kept in separate cells that must have few gaps between them. The main reason is cats are territorial animals, and they don't like to share their space or have any interaction with other felines. In addition to this, separate areas will also hamper transmitting any diseases between them.

Your cat must be routine of a big space as it stays free in your home. Keeping this fact in mind, you should see the area that is available in the cells of cats. There should be enough space with proper ventilation and sunlight so that the cat can run, play with toys, and don't feel caged. 

The most important thing is the hostel should be licensed and registered. You must see the relevant documents to check that it is registered with local authorities. It helps you in ensuring that you are giving your cat into the right hands which decreases the chances of any fraud with your innocent cat.
Also Read: How To Check Cat For Worms?
Why Choose MyKitten Cat Boarding in Delhi?
An experienced cat dealer and seller, we understand varied cat's needs and the best way of keeping them happy. You will be glad to know that apart from selling distinct cats, we also possess a decent cat boarding in Delhi which is devoted to animal care.
You must be thinking that why to choose our cat hostel as the vacation stay of your cat. Let's explore the unique features of our cat hostel that will surely convince you to visit it once and decide what is best for your cat

We have hired a trained professional who understands every cat's needs through their actions and take extensive care accordingly.

The hostel is appropriately cleaned 2-3 times a day so that cats can feel fresh and healthy in the pleasing atmosphere.

The cats are given the facility to play freely in a big area and they are free fed. Unlike other hostels who just feed 1-2 times in a day, cats can eat any time whenever they feel hungry at our hostel.

The best thing is you can trust us by seeing our documents, as we are authentic cat sellers providing cat boarding services and running the business for a long time.

At our hostel, we provide wet food and dry food for reliable companies to fulfill the food needs of every feline.

Small cages give a feeling of being caged to kittens which can even lead to depressions in some animals. Our cages are built keeping this fact in mind. So, they have enough space and ventilation to make your cat comfortable in the hostel.
Also Read: All About Persian Cats
Why MyKitten is the Best Cat Boarding Centre in Delhi?
We know that you want to choose only the best cat boarding of Delhi and that is totally understandable as you can't let your cute kitten be sick or depressed in your absence. You must be contemplating that are we the right choice? Is our hostel the best cat hostel in Delhi? We not only claim to be the best cat boarding in the entire city but can prove it to you as well. Let's see what makes us best:
1. Services
We provide everything perfect for your cat including premium cat food according to its needs, new soft beds as we keep changing them in some months, litter trays, and personal cell of your own choice. In addition to this, you are allowed to give anything extra for your cat's stay such as toys, beds, etc. that your cat truly loves as our basic aim is the cat's comfort.
2. Professional Staff
In other hostels, you will only get basic facilities such as food, bed, cage, etc. but we take care of the cat's happiness as well by providing proper scratching posts, playing area to all the kittens and staff who plays with them.
Also Read: All About Maine Coon Cats
3. Proper Grooming
We consider your pet as our family member until it stays with us. Considering that we even focus on their proper cleaning and grooming. Your cat will look as cute as it was with you in our hostel through adequate grooming with the proper metal comb and cat's brush.
4. Health Insurance
Your cat will never get sick here as the hostel is designed like that. We won't let the cats unnecessarily touch each other, bite other cats or sneeze near other cats. As we understand that cats easily catch viruses and communicable diseases from other cats through such contacts.
5. Safety Measures
Your cat's safety is our mission. We understand that some cats are naughty and love to get away from cages. To control this, we have made some safety corridors or safety units outside their cells so that they can't escape even if the gate of their cell is open. Apart from this, the adequate staff is available at the hostel to keep an eye on each cat. 
6. Provide Training
If your cat doesn't have adequate litter training then it's not a matter to worry. As in our hostel, litter training is also provided to untrained cats. We even use odorless litter sand to maintain the pleasing atmosphere free of all smells.